Prof. Affigne Helps Providence College Celebrate New SUNY President
On October 5, 2019 Political Science professor Tony Affigne represented Providence College at the inauguration of SUNY Oneonta's 8th president, Dr. Barbara Jean Morris. Prof. Affigne helped lead the Inauguration Procession with delegates representing more than 20 other colleges and universities. President Morris is the first person of Native American descent to serve as president of a SUNY campus, and only the second woman to preside over SUNY Oneonta. She is a well-known political scientist who previously served as Provost at Fort Lewis College in Colorado, and Dean of Arts and Sciences at the University of Redlands in California. She and Dr. Affigne were collaborators in establishing the political science subfield on Race, Ethnicity, and Politics in 1995.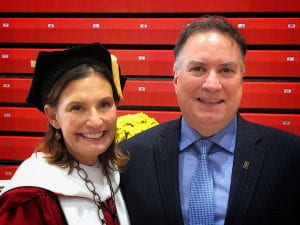 SUNY Oneonta President Barbara Jean Morris, and Providence College political science Professor Tony Affigne.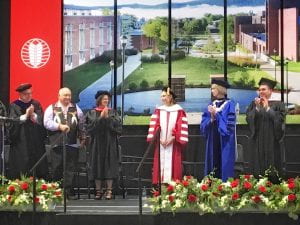 President Morris (center) flanked by (left to right) Prof. William R. Wilkerson, Chair of the SUNY Oneonta Faculty Senate; Thomas Roberts, of the Mohawk Nation; SUNY Oneonta Provost Leamor Kahanov; Kristina M. Johnson, Chancellor of the State University of New York; and U.S. Representative Pete Aguilar (CA-31).