Providence College at MOAS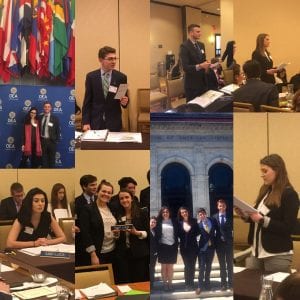 The Providence College Model Organization of American States (OAS) team competed at the recent Washington Model OAS conference from April 1 until April 5, 2019. Representing the country of Saint Lucia, ten students from the Political Science department debated key issues for the Western hemisphere including protection for journalists, climate change, food security, Venezuela, and refugee politics. The students met with the Permanent Mission to the OAS from Saint Lucia, attended talks by the Secretary General and Assistant Secretary General of the OAS, and delegated with students from 27 other universities and 7 different countries. Chris Iadeluca was elected to be Vice Chair for the Special Committee for 2020 and will be part of the organizing team for the next conference. Providence College will be representing a country from South America in 2020.  Read more about the trip here!
Participants included: Emili Castro Rodgriguez ('21), Madison Clark ('19), Cierra Duclos ('20), Christopher Iadeluca ('21), Megan McGunigle ('19), Rachel Minassian ('19), Maya Neski ('21), Tara Noble ('20), Caroline Olsen ('19), John Riccio ('19), and Peter Rindfuss ('20).